Mr Dog Poop's DNA lab and most of our equipment was custom built for our specific needs. Since there are not a lot of dog poop DNA labs, it may not look like the other labs you may have seen. In order to be as efficient as possible and keep our prices low we had to develop new processes, tools and customize our work space.
Our lab operates more like a level 4 containment facility than what someone might expect from a company testing dog poop. That is so we can insure the safety of our lab techs working with dog poop as well as insuring the integrity of thousands of samples being processed.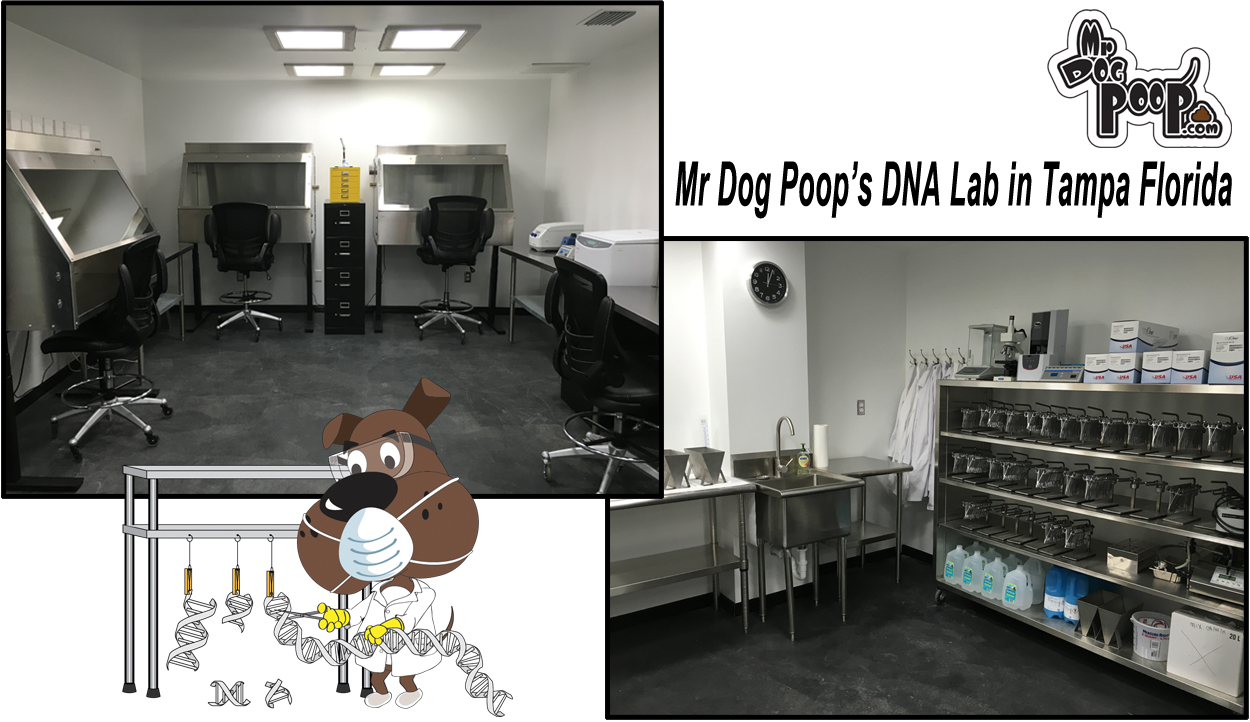 DNA Lab - A Quick Video Tour
This glimpse of a dog poop sample traveling through our dog poop DNA lab shows some of the tools and processes we use to get high quality DNA matches for our customers. The process is quite extensive and involves many hours of lab work to get any individual sample converted from smelly disgusting dog poop to a digital fingerprint.
Rather than bore you with all the scientific details we created a fun music video to highlight the process and show off our facility and the Dog Poop DNA work flow starting with the surface separation to the eventual match with the poopetrator.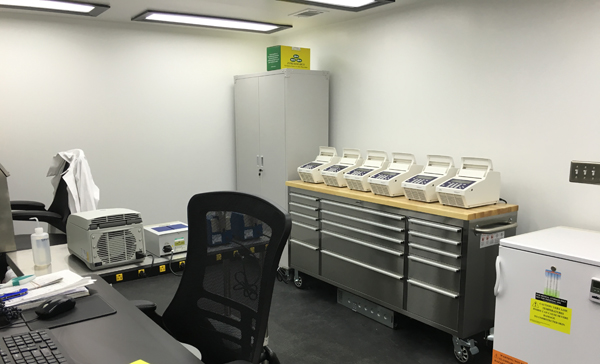 PCR Lab
Using completely isolated rooms allows for all processes of the DNA identification process to occur simultaneously rather than using the same work space for multiple steps. This greatly improves our work flow and allows us to complete identifications that much sooner.
Our PCR or Polymerase Chain Reaction Lab can process around 5,000 samples each day while new samples are being received and processed in the adjacent extraction lab. We have streamlined this process with our new facility which was specifically designed for maximum efficiency and high throughput.
DNA Extraction Lab - Sample Intake
All shipments of swabs and poop from properties are received in the DNA lab where they are assigned ID numbers that will track them through a complex process of DNA extraction, amplification of markers, capilary electrophoresis, database importation and matching and a final manual examination of electropherograms to verify the data as part of our quality control process.
The samples take several days to complete because each step requires its own equipment and processes unique to that step.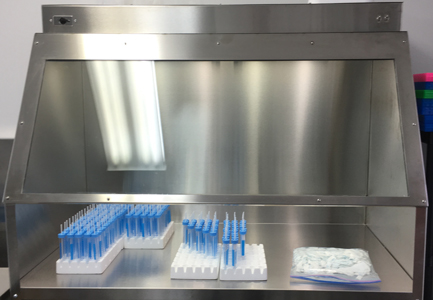 DNA Work Stations
All DNA work is done in our custom designed and built stainless steel anti-contamination hoods. These were designed by us and custom built right at our facility with a height adjustable work surface, ultraviolet lights for complete decontamination between each work cycle and are fully enclosed when not in use to insure no contamination from any airborne particles.
Our lab uses primarily stainless steel surfaces which are easy to clean and impervious to the ultraviolate light that is used to destroy any DNA left on work surfaces.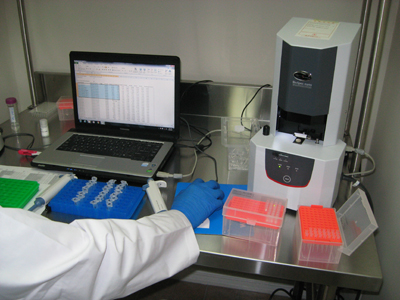 DNA Extraction Lab - Spectrophotometer
Our lab techs use the latest equipment, tools and processes to test all samples. No expense has been spared in building a facility that can securely, accurately and efficiently process millions of DNA samples annually as we look into the future growth of our company. For example, this tech is using the Biospec Nano Spectrophotometer to determine the concentration of DNA in a sample before advancing the sample to the PCR Lab for amplification.
All equipment is serviced, calibrated and tested at regularly scheduled intervals to insure that results are always within acceptable parameters.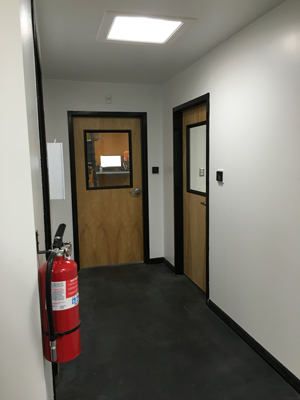 DNA Lab - Security
The DNA labs, offices, shipping and manufacturing departments located in our facility are divided into separate areas secured with computerized locks requiring RFID cards and pass codes. This was done so that we could follow the same protocols used in human criminal forensic testing labs and properly secure every sample.
Our private building sits on almost 1.5 acres of fenced and gated property with 24 hour video surveillance. Within the property our building is surrounded by an additional 8 foot tall concrete wall, chain link and corrugated steel fencing. Our employees, the ones without access to the DNA Lab joke about how we must be doing government black site work cloning radio active military dogs, or why else would we need so much security.
But the truth is, we just wanted to insure that Mr Dog Poop would operate the most SECURE LAB in the industry.
Why We Run Our Own DNA Lab
One of the most common questions that we are asked is if we have our own lab or send our samples to an outside lab. While we could certainly achieve good quality results with an outside lab, the cost would be much higher and it would limit our ability to change or improve our product or grow beyond the capacity of the outside lab.
By having our own lab we can insure the absolute integrity of every sample, make sure we always have the capacity to process high volumes of samples and control the time it takes to process each sample.
We have developed our own processes, built our own tools, created our own multiplex with 23 genetic markers and continue to improve that process as needed. Having our own lab allows us to make improvements almost daily, deploy unique techniques and continue to service our growing customer base.
In 2018 we realized we were quickly outgrowing our existing facility and purchased a building with over 8000 sqft of working space needed to expand the lab, kit manufacturing and shipping operation. We have plans to add an additional 10,000 sqft over the next few years to further support our rapid growth.
Our lab has unmatched capabilities, resources to service the dog poop issues at properties across the country. This is just one of the reasons that Mr Dog Poop is the most trusted name in Dog Poop DNA testing.
Articles & Videos

Heatlth & Safety

Terms of Service

Training Videos

Information

Resources

due to covid staffing is limited
1.813.885.2030
©2014-2023 Mr Dog Poop Inc
Mr Dog Poop® , Crime Lab® and DOGdex ID® are Registered Trademarks of Mr Dog Poop Inc